Rocked Like A Motherfucker: A Tale Four Years & Counting

The last night I saw him was a bad one, and it was partly my fault. 50% my fault, to be exact. This is the story of a teenager who thought she was grown and a grown man who thought he was a teenager.

It was a dark and stormy night warm and pleasant evening in the summer of sixty-nine (damn you, Bryan Adams) 2007, and I was out on a joyride with my friend Sandy. She's friends with the guys that make up the local band Betrayal, and she suggests we go to "the studio" to hang out with them. As we're driving through a residential neighborhood in west Tupelo I ask, "Exactly were is this studio?" It's in this guy's split-level house, in the basement-garage.

Sounded like a party to me (wherever Sandy and I were was a party), so whenever we pulled up to the house, I jumped out and greeted everyone like old friends (a beer had somehow made its way to my hand at this point, I don't remember how and I wasn't 21 but I gave nary a fuck). The Betrayal guys were throwing a squeaky pufferfish dog toy at one another in the yard (I didn't ask. The sight of four long-haired rocker guys playing with a pufferfish speaks for itself), and reclined against the wooden gate was the king of the proverbial castle, John. Sandy introduced me to him, and I noted a few things about him: his face was very striking, reminiscent of southeastern Native Americans. His nose was Romanesque, and across his face were deep lines where you could read his emotions easily. His face was framed by long salt & pepper hair, and from his tanned face his ice-blue eyes shone like oh-my-fucking-god-is-this-real.

He was very warm and open as I met him, and he gave me a five-cent tour of their studio before showing me upstairs, where there was beer aplenty and his then-wife Sherry was talking with John's son, Joshua, and Sandy. John and I sat down at the kitchen table with them and hobnobbed, drinking and smoking. Sherry was polite towards me, but as we sat and talked I got the feeling that she was evaluating me out of the corner of her eye.


Eat (but mostly drink) At John's.

Eventually a few more people trickled into the kitchen as the light faded completely, and it wasn't long before we all made our thoroughly-buzzed ways down to the studio for a jam session. Now I've seen a lot of rock bands play--a lot of guitarists strutting around like cocky roosters, imagining themselves as the greatest sex gods to ever hit this mortal pantheon. But I tell you this with utter sincerity: the way John played his guitar was a beautiful thing. It was an Argentine tango of musician and instrument. It wasn't even the notes he played that were so sensual, but the way he played them and approached his guitar that drove me mad. He made love to his instrument, truly, and I envied the guitar as John played with the rest of his band. I wanted him to touch me that way. He rocked like a motherfucker.

Eventually John and Joshua (his son & drummer) took a break (it was hot as hell in The Studio), and the Betrayal boys got up to jam. By this point Sherry and Sandy had gone back upstairs to talk without guitars blaring, and it was just John and I watching Betrayal have fun. It wasn't long before John went outside to smoke, and I followed him. The combination of beer and whiskey had made both of us bolder, and soon our mutual flirtations were expressed. We smoked, laughed, talked and exchanged brief kisses in the yard, all the while my heart racing like mad. John was the second man I'd ever had the nerve to approach sexually, and the fact that he lusted after me as well only made me giddier in a newfound-sex sort of way.

At the end of the night, Sandy and I left to go back to her house and sleep off our good time. The rest of the summer, if I wasn't home I could be found at The Studio, smoking cigarettes I'd bought and booze that I only paid for. In August I returned to Starkville for college to resume, but John and I maintained our fling whenever I visited home. Sometimes Sandy would be there, unknowingly providing a distraction to Sherry while John and I fucked in the basement shower, sometimes I would come by alone in the morning after Sherry had gone to work.

I'm not proud I was part of an affair, but that's just how it happened. Lust and alcohol blinded both of us, and I was doubly-blinded by the excitement of sneaking around and being lusted for. We were careful, so surely no one would be the wiser, right? It was just a bit of fun; fresh lust for the both of us.

The last time I saw John, it was a night much like the one when I met him. The guys from Betrayal were drinking, rocking and goofing off in turns. Sandy was cycling between upstairs with Sherry and the basement, joking with Betrayal. The booze was flowing as usual, and everyone was enjoying themselves, especially John and myself. Sherry retired from the hootnanny early since she had work the next morning, so John and I settled on the couch to peruse each other. Everyone miraculously stayed downstairs the majority of the night, and after "putting me to bed" on the couch John went downstairs to continue drinking with Betrayal.

My phone rings, waking me out of a dead sleep. I reach a claw-like hand out from underneath my comforter, feeling blindly around on my nightstand as I mutter curses into my pillow. "Mmlo" I grumble into the wrong end of the phone.
"What happened last night?" Sandy asks. "Sherry came storming down the stairs looking for you. Are you fucking John?"

I woke up on John's couch to the sound of a rubber Pilates ball bouncing angrily back and forth between the kitchen floor and ceiling. I peeked over the arm of the couch as Sherry kicked the Pilates ball, sending it careening off the wall above the couch at my head. I would have laughed, had I not been abruptly awakened from a nice post-orgasm sleep by a woman on a rampage. She somehow (despite the almost-very-well-placed kick) did not see me on the couch in the living room, and stormed angrily down the staircase to the basement where the party still raged with god-knows-who around. In the moment, getting up and hiding in a closet seemed like a good idea, so I did just that before John came in the front door of the house, opposite Sherry's exit. In retrospect, I think it was something straight out of a Stooges movie.
"Zola!"
I poked my head out of the hall closet near Joshua's room.
"You need to go; Sherry's downstairs looking for you. I'll handle it, but you need to go."

So I went, hastily. Slipped out to my car, drove home and snuck through my window into my bed, safe from projectiles at obscene hours of the morning.

"I'll tell you about it later, in person." Hang up the phone; seek solace in my bed again.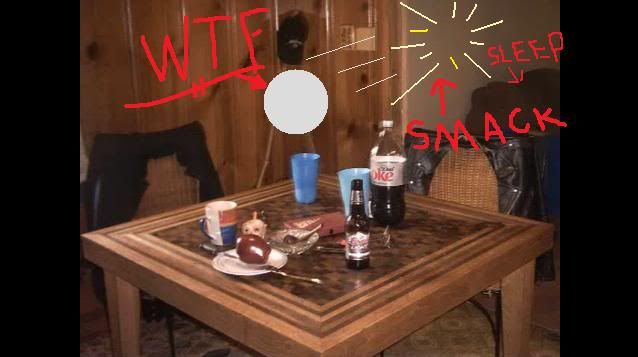 How It Went Down

Perhaps, dear reader, you remember the days of a website called MySpace. Once I returned to my apartment at college, I logged on to check my Myspace and found two messages in my inbox: one from Sherry, the other from John. Sherry's message was lacking in caps-locked rage, but full of wiley: she went on and on about how John told her what we'd done, and how I might as well just tell her. I clicked to the next message from John; Sherry had told him that I had told her everything, and he was upset that I had "told her" what we'd done. In the same digital breath, without waiting for a reply to that message, he told me to not come back to his house again.

I was stunned--what the hell was going on? Did Sherry really just dupe John that easily? Should I reply, pleading my case? I remember finishing off the bedraggled bottle of Jim Beam that Sunday evening, too distracted to give two fucks about whatever assignments I had due the following Monday (these were the days of my pre-veterinary studies; evaluating the bodyfat percentage of dairy cattle is really not as thrilling as it sounds). In the end, I decided to send nothing back, to just stay out of their life for good. Somehow things had gotten fucked up; the person who wasn't supposed to know did know, and I felt utterly wretched because John was a dear friend of mine. Amidst the few spans of deceitful lust I've described at length, there were more moments of meaningful conversation: I distinctly recall a discussion on the philosophy of The Beatles, on polyamory and the vastness of love in general, on marijuana legalization.

I did my best to put John out of my mind for good; it was clear at that time that I'd ruined a friendship, and it hurt terribly to think about. Eventually I succeeded in suppressing those memories, and writing them down now has proven difficult--even moreso without the aid of old blog entries and such.

Now four years later, John has requested me as a friend on Facebook. I was completely stunned whenever I saw the notification, and immediately thought it was one of three possibilities: Sherry had logged onto his account and was trying to harass me further, John was adding me just to Facebook stalk me (fine by me, I've nothing to hide), or John was adding me to honestly reconnect. I took a chance and confirmed the friendship, and immediately wrote John this message:

"Hey John, it's good to hear from you. I hope you're doing well; I want to let you know that even after all this time has passed, I still feel terrible about how my last night at your house went down.
I don't know if it was my fault or not; it probably was because I was young and stupid, hahaha. I'm not sure if you're adding me as a friend to hear this sort of thing from me or just to "facebook-stalk" and see where I am now, but whenever I saw your name I felt like I needed to tell you this, even if you have no real interest in hearing it: I'm sorry--really, truly sorry for the effect my actions had on you & Josh. I hope you've forgiven me.
Love, Zola"

As it turns out, Sherry was more than her fair share of crazy and hateful, and John divorced her. He hasn't had anything to do with her since November 2010, and he told me that he was sorry for his part in the whole mess. With her hateful attitude out of his life, John's looking to bring around again the friends that she drove away from him.

I'm glad he called me a friend, and I'll be glad to see him on Friday for the first time in four years.